The Long Awaited "Secrets of Male Psychology" eBook Is HERE.
And it's FREE for all members of the Undeniable Passion System!
(Simply log in to your account and click on "Training" in the navigation bar at the top of the screen)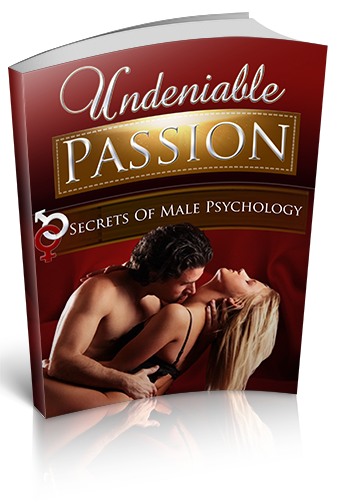 HERE'S JUST A TINY SAMPLE OF WHAT YOU'RE GOING TO EXPERIENCE IN THE BRAND NEW "SECRETS OF MALE PSYCHOLOGY" eBOOK
By the end of this course, you will have the techniques to drive your man to want to be with you forever.
Discover how to tap into the part of your man's brain that controls his feels on romantic attachment. 
Why believing that men connect love and sex is a recipe for disaster. And what your man ACTUALLY connects love with. (Hint: This alone will save you from countless hours of heartache.)
We're going to dive deeper in to the 3 "Psychological Loopholes" than ever before. After this, you will understand how your man's mind works better than he does!
By combining these two elements (which we discuss in great detail) will make your man feel magnetically drawn to you like never before.
The number 1 emotion your man MUST feel from you if you ever want him to continuously fall in love with you more and more over time.
How to understand the 2 "languages" men communicate in. (Hint: Understanding this alone could end nearly all miscommunication between you both.)
The one strategy you should NEVER use when trying to get a man to commit to you. Sadly, nearly every woman will use this a numerous points in her life, and will wonder why he ran away instead.
20 innocent sunding "trigger words" that will instantly flip his attraction triggers and make him want to spend more romantic time with you. (plus examples for each trigger word)
How to write perfectly crafted text messages that will practically force him to drop why he's doing and rush to be with you.
50 pre-written text messages you can simply copy/paste anytime you want to spend romantic time with your man.
How to keep your relationship feeling "hot" and "new" 24 hours a day.
Our patented "triple-coil approach" to seducing even the most closed off and distant man, with absolute ease.
Advanced seduction strategies that will keep the passion in your relationship red hot for the rest of your lives!
How to excite him in to experiencing your biggest (and most private) fantasies.
Our experts strategies for enjoying the most physically and emotionally satisfying sex of your entire life each and every time.
And so much more, there's no way I could list it all here!
So How Can You Get Your Hands On A Copy Of "Secrets Of Male Psychology?
For The Next Few Days Only, When You Sign Up For The Undeniable Passion System, And This One-Of-A-Kind eBook Will Be Waiting For You As My Free Gift!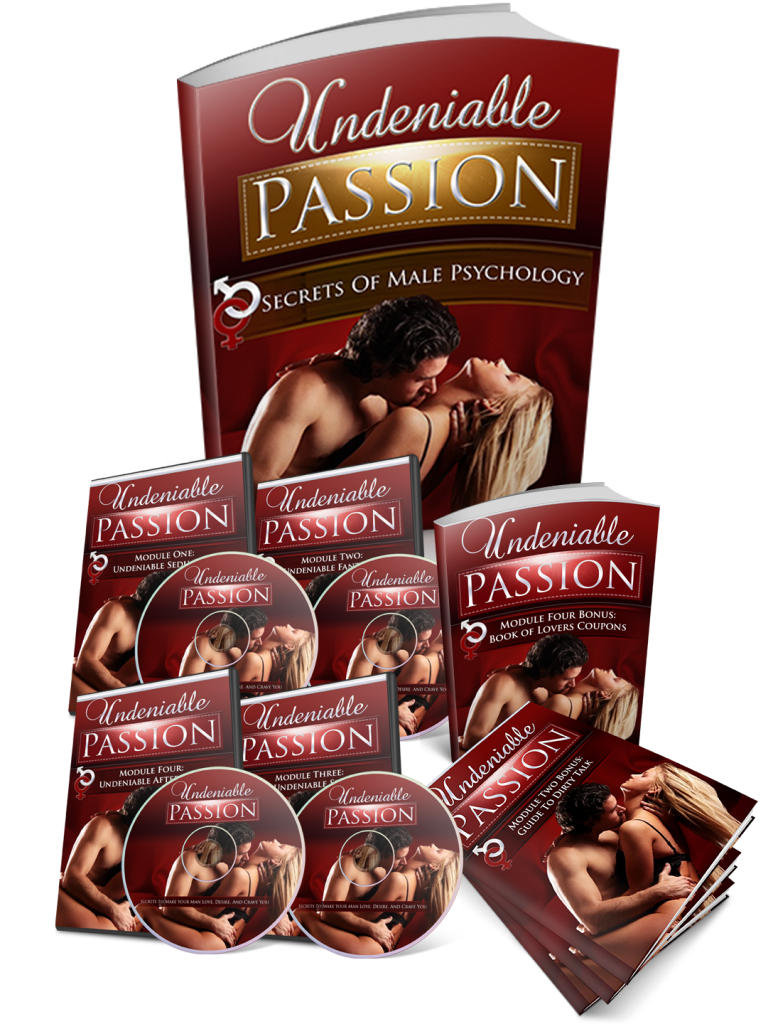 Just One Easy Payment of $39.95 If You Act Now!
Now is the best time ever to experience the Undeniable Passion System.
You'll be redirected to Clickbank.com to complete the secure checkout process

Your order is backed by my 60-Day, No-Questions-Asked, 100% Satisfaction Guarantee.
If you're not 100% satisfied for any reason, simply contact [email protected]  for a full refund.