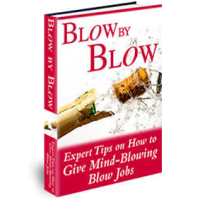 So we all know that men LOVE fellatio but not all women know how to do it properly. So is Michael Webb's latest edition worth reading? Let's find out…
After just reviewing a book on oral sex of the female variety (cunnilingus), I have to say I'm now a BIG believer in guides on oral pleasure. It really does take more work than just an up and down motion.
Okay, so while there are many interesting sections in this book including health and safety, diagrams and anatomy, shaving and waxing and visual stimulation, the REAL heart of the book is in the techniques section.
The book contained 15 techniques in total, which range from obvious all the way to techniques I'd never heard of before! Yes, there's much more than just suck! And if you've ever wanted to know how to deep throat or ever felt too scared to try, you'll appreciate this in the advanced techniques section, although it would have been nice if it went into a little more detail.
Also, I really enjoyed the section on "building anticipation" which helps men have a more powerful and satisfying orgasm. And it was nice to see that the whole trouble with "getting it up" problem was solved with some very impressive ideas too!
However, probably the best thing about the book was that the locations, positions and new sensations sections really help inspire you to come up with your own ideas and ways to spice up fellatio and keep it exciting ­ because it's almost always the same.
So were there any down points? Sure. I found many of the other sections a little tedious and a little boring. I mean, some were interesting, like the health and safety, but I often found myself sneaking a peak at the techniques section before coming back and reading it again properly.
Nevertheless, I still think Blow by Blow is a must read for women. So if you suspect that your man's not enjoying oral pleasure much, you're new to all this or a little scared, or even if you just want to give him an out of this world experience, then this book is perfect for you! Two big thumbs up!
For more information, visit HERE: Blow By Blow