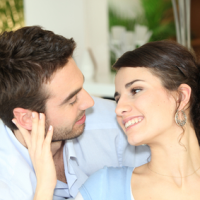 It's everyone's biggest nightmare; the first date disasters. They happen more often than we want them to, and it's important to know how to recover from one and turn it into a positive thing rather than a deal breaker. The first thing to realize is the fact that these occurrences happen to people all the time, and you won't be the first or last. By preparing yourself for the worst, you'll be able to quickly and smoothly recover from your disaster. You might get praise from your date, or they might not even recognize the fact that you just averted a huge crisis on your own. Let's tackle some real-life disasters that people have encountered on their first date.
Running Into an Ex
The first real disaster that you can encounter is most likely one that people don't think of all the time, but secretly dread. If you live in a small town or favorite locations that you like to travel, there is a chance that you may run into a previous romance you were involved in. However, running into an ex does not have to be as awkward as you think. Simply take the opportunity to give your date some insight as to what happened between the two of you. The key here is to not overplay anything, don't talk too badly about your ex and don't dwell on the topic for too long. If you don't think it's a big deal (because it really shouldn't be) then your date won't think it's an issue, either.
Bringing Him Home to a Messy Apartment
There is a chance that you are having a good time with your date and decide you want the night to last a little longer. What might have slipped your mind, though, is the condition of your home or apartment when you make it back. Many women worry about what a man will think when they see a messy home, but they are most likely panicking about a very little issue. Men are typically messy by nature, and they might be intimidated if your place is too nice and clean. Simply make a joke out of it and go on with your night. If you are a messy person to begin with, it's one less thing you have to deal with later on in the relationship.
Bad-taste Jokes
One of the best ways to break the ice is to crack a few jokes throughout the duration of your date. While you may think you have joke of the year material, not everyone shares the same taste of humor and you might end up touching on a sensitive subject. Just like you should never discuss politics or religion with your date, don't joke about touchy subjects until you get to know your date really well. If you end up slipping up, don't worry about it too much. If your date finds something offensive, you might try to switch topics and find out why they don't like the subject; you may learn more about your partner that way. The more you dwell on your "mistake" the more likely you are to get nervous and tighten up. Just laugh off the bad joke and go on with your date.
Talking to the wrong Blind Date
Sometimes, our friends set us up with on a blind date, which can be nerve-wracking. While you might have a good idea of what your date looks like or how they are dressed, there are instances where people go up to the wrong person. If you find the wrong person, simply apologize to them and go about your day. This can be an embarrassing moment, but also a great way to break the ice with your date (once you find them.) Telling them of this instance shows that you are just as nervous about the date as they are, and it may relieve some of the tension for both of you.
Putting Your foot in your Mouth
Lastly, many people worry about saying something stupid when they are on a date. For example, someone makes jokes about a certain genre of novels, only to discover that their date writes those exact types of books. While this can be an awkward moment, it's smart to use this as a "learning experience" and ask them more about the genre. Say that you don't have enough experience in the genre to know better, and then go out and buy all of their books. Regardless of what "dumb" move you make, give your date a chance to clear things up for you and help you become more educated on the subject. Don't be stubborn and try to play tough, letting them talk about what they love is a great way for you to learn more about them and expand your horizons.