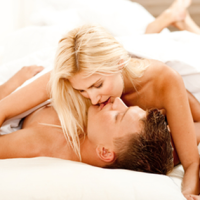 My boyfriend and I have been together for about 4 years. We have a lot of fun together, and are each others best friends. The problem, is just that… He feels more like my best friend and not like my boyfriend any more. We aren't romantic with each other any more, and it's killing me. Is there anything I can do to change that?
Here's the sad truth about relationships, after being with someone for a certain period of time, things can start to feel a bit stale. All of the activities you do become routine and that special spark can begin to dwindle.
This isn't just something we face in romantic relationships, it's most of the relationships we have in our lifetimes.
While the exact timing of when the spark tends to go varies from couple to couple, it's important to spice things up a bit from time to time to keep things fresh and fun for both of you.
The reason being is that experiencing new sensations with your partner will keep him "on his toes" and excited to see what comes next. And when you are both excited for the next surprise, there won't be any chance of your relationship feeling stale.
Here are 5 simple things you can try to spice things up a bit.
1. Surprise Him From Time To Time
People are creatures of habit, and that can be a bad thing sometimes. Having a set routine is a good thing, but there is nothing wrong with planning a spontaneous date night or bringing home dinner without any warning.
Grab your partner's favorite dessert or 6-pack of beer on your way back home and see the smile on his face when you walk into the room.
The things you do to make him happy aren't necessarily the big things, and part of the fun in a relationship is enjoying the unpredictability of it all.
Pinch your mans butt when he don't expect it or give them a quick kiss on the neck just because you feel like it.
Surprises can be a good thing, both in a relationship and for a person's morale.
2. Let Him Know You Appreciate the Small Things He Does
Another downside to being with someone for a long period of time is that you start to get used to what they do for you.
Maybe you take for granted the fact that he does the laundry for you or that he makes dinner for you on certain days.
Sometimes, the best thing you can do is thank him for their efforts and let him know that you appreciate everything that he is doing for you.
Your partner will be happy to know that you see everything he's doing for you, and that's something that shouldn't be taken for granted.
If you are feeling like doing something extra, you should make a thank you card or dinner and list off everything you appreciate that he does for you.
It's a great way to take a step back and really think about everything he does for you and how your life is better because of it.
I remember a couple of years ago when I busted my ass for two straight days removing old furniture and assembling new things for my girl friend at the time.
I was happy to do it for her, but when she gave me a bottle of my favorite scotch and a nice long massage to show her appreciation, I was beyond thrilled.
3. Go Back in Time With Him
No, you can't go back in time with him literally, but you can easily do the next best thing.
Recreate your first date together and remember all of the tension that you felt when you were in those environments.
Talk about all of the feelings you had and what thoughts crossed your mind during those times.
You can also grab a photo album and sit down with your loved one and talk about all of the things that you have done together.
Maybe it was a special dinner or vacation that you remember most, but each of those events will be something that the two of you can treasure forever.
4. Communicate More
You might start to feel like you know everything there is to know about your partner after being with them for so long, but that can actually be a pitfall for many couples.
No matter how long you have been together, you should make sure that communication between the two of you is clear and concise.
Talk about the future together and what you hope to achieve.
This might help you set forward towards the same goal and give you the time to reflect on what is really important to you.
Don't ever expect that your partner can read your thoughts and feelings.
5. Go on Vacation Together
Lastly, pack up those bags and head out somewhere new with your partner.
Maybe it's the first trip you've taken together or the tenth; there's nothing more exciting than forgetting all of the stresses of the day and having some time exclusively between the two of you.
Everyday life can take a toll on us all, even if we don't recognize it.
No matter what excuse you've been using all this time, plan a trip together that you can both enjoy.
It will help you create new memories that you can share with your loved one for years to come.
Each relationship is unique and how you express your feelings will be different.
However, it's important to switch things up and remember why you fell in love with this person to begin with.
These 5 steps are just a springboard for ideas, so don't hesitate to do something different and special just for your guy of yours.
If you are ready to really take your love life to the next level, I recommend you take a look at the Undeniable Passion System.
If you enjoyed this article or have questions, please leave me a comment below: