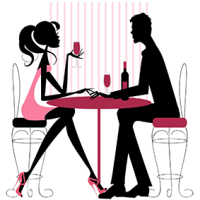 Making a great meal for your partner is not only romantic but it's also a great way to start the night off right. If you are not an expert cook or you spend minimal time in the kitchen, have no fear. There are many different delicious and fancy meals that you can make without spending a lot of time in the kitchen cooking and preparing. Often times people will avoid cooking at home because they believe it is expensive to make a nice meal and it is also time consuming. Both of these thoughts are not entirely true. While you can spend a lot of time and money in the kitchen, you do not have to.
Learning how to cook a nice and romantic meal will help you become more comfortable in the kitchen and will also let you give your man a great surprise. Think about a night when you can surprise your better half when he comes home from work. Once you have a date in mind, get ready to do some grocery shopping as this article will walk you through making a nice and elegant meal; fresh salad, artichoke and spinach ravioli bake and raspberry chocolate turnovers.
To start, you will want to look at your salad. A salad should use fresh ingredients and also have a nice accompanying dressing. This recipe is for a garden vegetable salad with a garlic and lemon dressing. You are always able to customize a recipe to your liking if you do not like all of the ingredients used (such as: carrots for radishes or shredded American cheese for feta cheese).
Garden Vegetable Salad with Garlic and Lemon Dressing
Salad:
6 cups of romaine lettuce (chopped)
½ cup of carrots (shredded)
1 cup broccoli (chopped)
1 green bell pepper (chopped)
8 cherry tomatoes (quartered)
1 cucumber (peeled and sliced)
3 slices bacon (cooked and crumbled)
1 egg (boiled and sliced)
Dressing:
2 tablespoons fresh lemon juice
2 garlic cloves (minced)
½ teaspoon Dijon mustard
1 teaspoon salt
¼ cup olive oil
Directions:
In a bowl, combine the lemon juice, mustard, salt and garlic. Mix together well.
Slowly whisk in the olive oil until the dressing is well mixed together.
In a large bowl, combine the lettuce, carrots, broccoli, bell pepper, tomatoes, cucumber, bacon and egg. Toss well to mix all of the vegetables together.
Once the vegetables are mixed together, pour the dressing on top of them and toss well.
Serve.
Now that you have your salad recipe, you will want to move on to the main course. For this main course you are going to be shown how to make Artichoke and Spinach Ravioli Bake. This is a great main course as it is not too heavy and will allow you to still enjoy dessert afterwards. To save time, this recipe calls for premade fresh raviolis that can be found at your local supermarket.
Artichoke and Spinach Ravioli Bake
Ingredients:
4 tablespoons flour
¼ stick of butter
1 package spinach (frozen and chopped)
1 quart of milk
¼ teaspoon pepper
¼ teaspoon salt
1 tablespoon fresh lemon zest
3 cups of ricotta cheese
4 garlic cloves (minced)
4 packages of large raviolis (cheese, mushroom, spinach or any variety)
2 can (15 ounces) artichoke hearts (drained and sliced)
1 ½ cups of parmesan cheese
Directions:
Preheat your oven to 425 degrees and allow a large pot of water to reach a boil over high heat.
Remove the spinach from the packaging and place into a bowl or plate. Defrost it in the microwave for 10 minutes.
Place a saucepan over medium heat and place the butter into it.
Once the butter has melted, whisk in the flour and allow to brown for 1 minute while constantly whisking.
Slowly whisk in the milk. Allow the mixture to come to a boil while continuing to whisk.
Once the milk mixture reaches a boil, reduce the heat.
In a small mixing bowl, stir together the salt, pepper, garlic lemon zest and ricotta cheese.
Place the raviolis into the pot of boiling water and boil for 6 minutes.
Once the spinach is done defrosting, ring it out to remove the water. Set to the side with the sliced artichokes.
10.Drain the pasta.
11.Pull out a 13 inch by 9 inch casserole dish.
12.Spoon enough white sauce into the casserole dish to cover the bottom.
13.Place 1/3 of the raviolis on top of the sauce.
14.Place half of the ricotta cheese on top of the raviolis.
15.Top the ricotta cheese with half of the spinach and artichokes.
16.Spoon more sauce on top of the spinach and artichokes.
17.Repeat the process one more time and then top with the remaining ravioli and sauce.
18.Sprinkle with the parmesan cheese and place in the oven for 5 minutes or until bubbly.
19.Remove and serve.
Dessert is always delicious and many people love to eat dessert foods. This recipe is for a delicious raspberry and chocolate turnover. This dessert is sweet with a nice touch from the fresh raspberries.
Raspberry Chocolate Turnovers
Ingredients:
½ pint of fresh raspberries
½ stick melted butter
12 sheet fillo dough
18 truffle chocolates
Directions:
Preheat your oven to 375 degrees and set a baking sheet to the side.
Unwrap and lay out your fillo. Cover it with a damp paper towel to prevent it from cracking and drying out.
When ready, remove 1 sheet of the fillo and brush it with some of the melted butter.
Fold the fillo in thirds lengthwise and brush the top with more butter.
Place 1 truffle into the middle of the fillo and place a raspberry on top.
Fold the lower corner of the fillo over top of the filling to form a triangle.
Repeat with the remaining chocolate and raspberries for a total of 12 turnovers.
Place the turnovers on the baking sheet and place in the oven for 12 minutes or until golden brown.
Remove the turnovers from the oven and allow to cool.
10.Melt the remaining chocolate in the microwave and then drizzle over the turnovers.
11.Serve.
These three recipes are all easy to make and are not time consuming. You will be able to whip up a full meal in no time for you and your partner.
As a guy, I can tell you that it always puts a huge smile on my face when I get to come home to a delicious meal made with love. when you add in a bottle of chianti and some mood music, you can bet that your man is going to give you his full attention all night long.
Now, I am not a professional chef but I have been fortunate enough to get to know quite a few over the years. So I've gone ahead and listed a few of the top cook books that they recommend below.  This should give you a fantastic head start regardless of your current kitchen experience.
1) Sinfully Healthy Gourmet Cookbook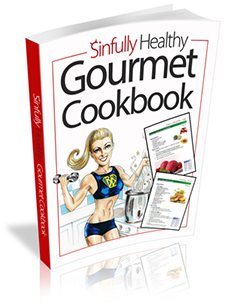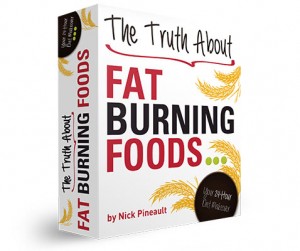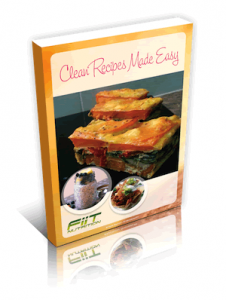 If you enjoyed this article and want to read more like it, please leave a comment below.