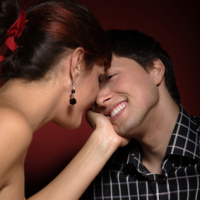 It's not like we have been dating for a long, it has only been 2 months but there is something that has been continuously bothering me. I guess I am really bad at kissing. The other day, my boyfriend (let's call him Damon), and I had the house to ourselves for the entire day. We were lying on his bed, and as usual I initiated making out with him.
He was playing videos games and it took him a little while to throw the controls away and give his 100% attention to me. It started off with the usual kisses on the face and neck and we were making out for 15 minutes when Damon slid his tongue into my mouth. At this point, I completely froze; I didn't know where to put my hands at, what to do, and most importantly what to do with his tongue inside my mouth.
I absolutely have no clue what I was doing from there on, and the most embarrassing part was, when he politely backed off and said, "Baby, it is ok. Practice makes one perfect." I ended up all blushing and embarrassed, it was embarrassing not because of what he said but because I CAN'T KISS. What do I do? I think this might be bad for our relationship in the long term. Help me out! 
First, before we get in to the specific techniques I have for you today I just want to let you know (as a guy) video games are a major "chill out" time for us. They are great at alleviating stress, spend time hanging out with our (mostly online) friends, and escape to a fantasy world where we can get away with just about anything we want. So don't worry that it took him a couple of minutes to put the controller down. That is 100% completely normal.
With that little disclaimer out of the way, let's get in to the techniques I have for you.
The French Kiss
It is absolutely OK to not know how to French someone (trust me I have seen the absolute worst case scenarios when it comes it french Kissing, and it's not the end of the world). It is not just you, I have come across of girls out there who don't really know the perfect way to kiss. Let us start from the basics; kissing is like one of the many ways couples express intimacy with each other. But most couples take it for granted. For most of them, it is just a way to heat things up before they can get to the 'good parts'. However, kissing can be your secret weapon, and you can get your partner to do whatever you want as long as you know how to make them swoon with your kisses. The trick is in doing it the right way. When kissing, everything comes in to play, the way you use your tongue, the way you touch him, and the parts of his body you touch.
Practice Makes Perfect
To the girl who is bad at kissing, Damon was right, practice makes perfect. Kissing means a lot to guys, and the more you do it the more you'll get a grip on the best way. It is an art that most women learn overtime. It is not about sucking on his tongue or starting a tongue war, every guy has his own preferences and you learn what the guy likes with practice and countless make out sessions. Having dated a number of girls, I can tell you that everyone has a different style and being in a relationship is all about adjusting. Most guys are looking for a lot more from women while kissing, and you can spice things up a notch using the following tips and tricks.
The Goodies You Can Give Your Man While Kissing
The Slight Bite
Not really good at tongue kissing? Let him take over and while he's doing it, bite his lips gently. Guys dig it when girls bite their lips while kissing, some might like a slight, soft bite, while others might dig in deep wanting you to bite harder. In the midst of all the heat, try to look for body language cues, which will help you decide whether he likes a soft or a harder bite, plus you'll also know what to do next.
The Touch
Men, love to be touched while making out. When you are tongue-kissing, start off with casual petting on the back and as the session starts to get hotter, dig your nails in his back, slowly. Don't overdo it, as this could backfire, keep it slow and gradual and keep digging your nails in until you get the cues that this is how deep he wants you to go. It is actually the pain plus pleasure theory and let me tell you, it is an absolute bomb to use. I love it when my girl scratches my back with her nails, and she knows I want her to scratch me harder when I bite her lips.
Nothing Beats Sticking To Him
Touching and getting physical with women is every guy's wish, but doing it the right way will give you great leverage in the relationship. Apart from pulling his hair slightly, biting on his lips, digging your nails in his back, nothing beats wrapping your arms around him as firmly as you can. Try this while kissing and you will notice yourself how frequent the make out sessions get. Stick to him tight and focus on staying as close as you can during the make out.
To the kisser in trouble, try using these personally tried and tested techniques in all of your make out sessions from now on, and enjoy a much more passionate experience. Good luck!
Joshua Rose
If you enjoyed this article and want to read more like it, please leave me a nice comment below.