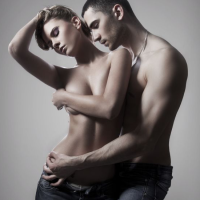 It's Saturday night, drinks in hand you head to the dance floor.  The music is intoxicating, it begins to take over, the bass pumps through your veins making your heart race.  You look up and meet the gaze of another, your heart skips a beat as you inhale the electricity.
Before you know it Lust has taken the reins, making you do things you would never do.  It almost feels good to be out of control, you exhale and let all the worry of your week wash away.  If it feels this good, how can it be wrong?
Is it Love?
Some people confuse Love with infatuation; many times we think we are in love when we are really not.  We tend to fall victim to the evocative feelings of lust – mix in a good conversation and a few things in common and we end up in a relationship.
Usually, every relationship has a 'honeymoon' period, the first few months is bliss: the suspect that makes you feel like you are in love.  But how do you tell the difference between true love and infatuation?  Chances are, if when the honey moon is over, you find yourself desiring the attention of someone other than your partner – it's not true love.
We often settle for someone who is good enough, because as trite as it may be, true love is like a fairy tale – most people don't believe it exists.  We stay in relationships that aren't right because they are comfortable and we learn to accept the fact that it is a natural instinct to desire someone else.
What is True Love?
How can you tell if it's true love?  Everyone I am sure has a different opinion or explanation; people bond for different reasons and sometimes it may include a mutual understanding that one or both of the partners may sleep with other people.  True Love is a mysterious beast- few can describe- though it is common to hear the following statement about true love:  "you just know."
True love is when the line between love and lust is no longer an intoxicating blur, it is no longer a provocative dance between right and wrong.  It becomes one solid line, one that you do not question; you just understand that they are one in the same.
Monogamy?
The argument can be made that monogamy may not be for everybody.  However, if you look at men and women with commitment issues, you will often times see a troubled childhood.  Could it be that children who grow up in dysfunctional homes, build a resentment toward love?
The answer is yes; many children who grow up with parental issues are deeply affected by it and in many cases can carry into adulthood.  Their subconscious mind tells them they do not want to be put in that kind of situation, because they do not want to go through the heart ache they seen their parents suffer.
The Double Standard
Why is it more acceptable for men to be promiscuous than women?  A man is considered a stud or a ladies man and receives acknowledgment from his male counter parts.  A female is considered a "slut" and is shunned by other females.
The truth is on average, men are more willing and comfortable with requests for sex than woman are.  Almost any woman could proposition a man for sex and receive what she wants; men on the other had would get slapped nine times out of ten for the same request.
Surveys state that many woman will say they had less sexual partners than they have actually had, while men will say they had more – a testament to how we feel about our sexuality.  Both men and woman want to avoid judgement but for different reasons.
The Game
Women play hard to get because they want a man to show they won't give up.  Most women like a man who is quiet and doesn't say much because they want to earn his attention.  They also don't want to be called at like an animal, they wanted be appreciated and want a man who she feels is deserving of her.
The dating game is just that, a game, you either play or get played.  Which is precisely the reason so many people settle, it can be tiring, frustrating and confusing.  So how do you survive the game and find true love?  It is best to quit over analyzing, enjoy your life and be yourself -nobody likes fake advertising.  And in the end shouldn't the one you're with love you for who you really are?
A lot of time, women find themselves feeling they are not in the right relationship because they have trouble staying focused on where the relationship currently is, and not where they wish it were.
If a woman feels that her man has potential to be a great boyfriend, husband, father or life long partner; A lot of the time she will feel some amount of resentment because he is not currently the person she believes he will be. This resentment is something us men can feel (even if we don't realize it directly). When we believe that you feel negatively about us or the relationship in general, it gives us the feeling that it's best to get out before it gets worse. Then we are both left to start the whole process over once again.
If you really want to find the happiness and love you're waiting for, try to live in the moment. Enjoy your man for the person he is right now, and don't worry that he's not yet the person you believe he will be.
Joshua Rose
If You enjoyed this article and want to read more like it, please leave me a nice comment below.