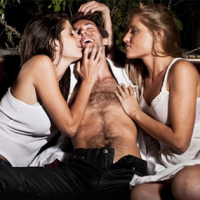 So I was in my first threesome last week, with a friend, (let's call her Jane). I have had a cuddly, kinky sort of flirtation with her for the past month. I had always been ready to do anything and everything beyond flirtation with her but last week things changed quite a lot.

Last Monday, Jane came over, she and I got a little naughty and we made out before my boyfriend (going to call him Jason), came over (Jane was familiar with Jason). It was actually my suggestion that Jason should come over and 'play' with us a bit.

Jane and I were quite tipsy as we already had a couple glasses of wine before Jason came in through the door and it didn't take long for things to heat up. The three of us hung out talking on the couch for a bit and then feeling the general vibe in the room, we all started getting extra-cozy. It felt good being worshipped as they were both kissing me. After some triangle making out, we took things to my bedroom.

This is where things started to get really awkward for me, when Jane and Jason started having sex. I tried to push in at times, by distracting Jane and then pulling Jason towards me but things seemed too out of control. That's when I gave up, took up a corner in the room and lit up a cigarette.

Both of them asked me if I am good, I said yes and saw them having sex. Hating all of it to the core, I think I like Jason more than I thought I did. I haven't spoken to Jane since then, nor have I replied to Jason's calls. I'm hurt, upset and depressed. Help me.
Being a guy, I can tell you one thing, men won't ever say "no" to a threesome, for a couple of reasons. We are gobblers, we want more beer, we want more bacon, and we absolutely want more girls.
While threesomes involving two guys and a girl would obviously put off the guy whose girl it is, same is the case with two girls and a guy, like with the confused girl at the top. Women are naturally more caring, empathetic, and loving, so it was natural for the girl to feel the way she did.
I remember a few years back, me and my girl were having sex and watching porn at the same time. There was a scene where a girl was seduced in to a threesome, that aroused us to new heights and we would talk about having a threesome with a sexy friend. We did not try it until recently, when the right circumstances popped up.
A threesome is something really exciting, arousing and a great experience, provided that you girls make your decisions wisely. Have a look at the following:
How To Ensure The Best Threesome Experience
Just understanding these points and following them will help you ensure that you and your boyfriend have your share of fun while keeping your relationship stable.
#1- Don't Bring In Someone You Know Well– Avoid bringing in someone you and your boyfriend know really well and meet regularly. That will just end up making things awkward, and one of you (probably you) will end up feeling insecure.
#2-Kill The Feelings– Want to ensure that you still have your boyfriend with you by the end of the threesome? Discuss this earlier with him that it is only sex and no feelings for the third person are involved. If your boy persistently talks about bringing in this one girl, he probably has some feelings for her.
#3-Buildup– Don't just focus on jumping in to bed as soon as the third person shows up. Sit and chat for a while, have some drinks so that you can analyze the situation and the threesome doesn't turn out be an awkward experience.
#4- Don't Make Your Boy Feel Left Out– Want to ensure you don't lose your boy in the midst of all the heat? Make sure you don't make him feel left out, it is possible that you might be distracted with the presence of a third person but focus on your partner more.
Last but not the least, nothing is ever too trifling to talk about with your partner. You don't want him to give out love bites to the third person? Don't want him to do anything behind your back when you go to the bathroom? Don't want him to penetrate the third person?
Well, the solution lies in simple discussions. Before the third person shows up, you can discuss rules for the threesome with your boyfriend, don't make him feel that you are insecure, instead just lay the rules in the open.
By keeping these simple things in mind, you can ensure that you get the best out your experience while inhibiting any sort of negativities. So are you ready for your threesome? Just keep these basics in mind before entering one!